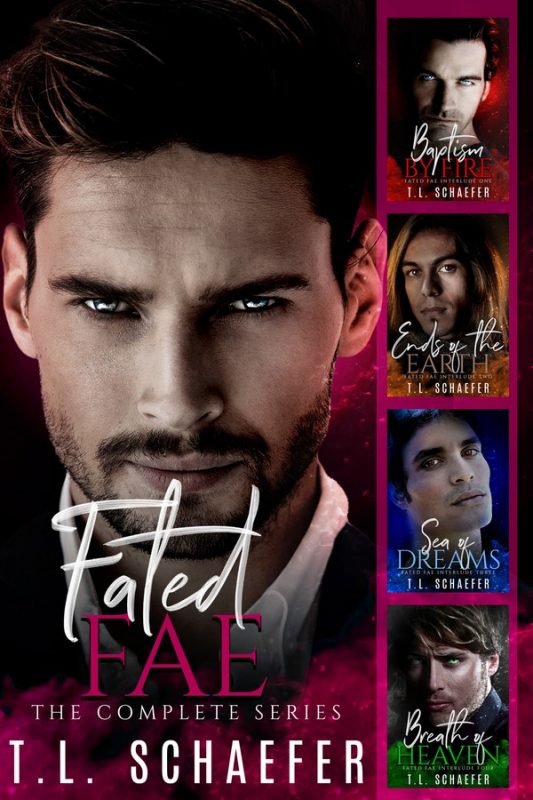 The Fated Fae Box Set
Four sizzling novellas...one low price.
War is coming between the fae and the pixies and whoever possesses the lost runestones will reign over the magical kingdoms. It's up to four couples, fae and human alike, to ensure the world as we know it doesn't tumble into chaos and anarchy.
Baptism by Fire
Firefighting fae Aidan Hughes and mythology professor Leanan Murphy are brought together by a suspicious blaze and create unlikely sparks of their own as they search for an arsonist with a deadly agenda of his own.
Ends of the Earth
Chloe Saint James has lived the last forty years on the fringe of society … both human and Fae. With historian Logan Whitefeather she finds a kindred soul, and one searching for the same thing she is—the Rune of Domain.
Sea of Dreams
Fiona Neal swore her job as a naturalist was a new beginning, but when she encounters Mike Alvarez months after a one-night stand, it's hard to ignore the swirling passion between them.
But their budding relationship will be tested by ghosts from not only Mike's past, but Fiona's as well. For there's more to her than meets the eye. She's a prodigal daughter, and the only one who can heal the mystical world of the fae ... or tear them apart forever.
Breath of Heaven
The final battle in the war between the fae and the pixies is at hand. Each faction will stop at nothing to reclaim the remaining two runes, and cement their position of power within the Realm.
Rhiannon, Moira to the fae, and Liam, pixie troubadour, have faced each other across such a battlefield before, and neither came away the winner. Now they must join forces to defeat a foe two centuries in the making. But they must confront more than an ancient enemy bent on world domination, they must fight their attraction for one another, and the treasonous implications of a desire that could join their worlds together, or rip them apart forever.