Not a Jeep'n adventure but an adventure all the same.
I took my first solo vacation in late September. August and I had always talked about going to Belize, so I decided that was the spot. I booked my plane and hotel reservations in June, I was so excited—LOL.
I flew out of OKC, through Houston and landed in Belize City pretty early (noonish). Customs in Belize only took about half an hour, and I met my taxi driver Dean right outside. He was awesome, so much so that I asked for him to be my tour guide the next day.
The Harbor View Hotel & Spa was fantastic. The only bummer was that the restaurant was closed for renos, but I made the best of it 😊 My cottage, the Scarlet Macaw, was simple and comfy, and had life-saving AC, which became very important later. (on the website you can see my cottage on the far left, it's blue now)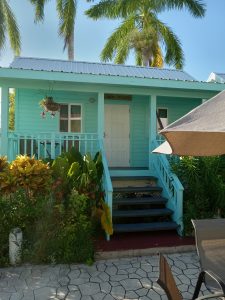 Since I'd arrived so early, I decided to explore a bit and grab some lunch. There was a Radisson with a great restaurant literally around the corner, so I ordered some amazing ceviche and a few drinks while I looked out over the ocean. It was like my body took a great big breath and let it out.
I'd been debating whether I wanted to dive right into adventure the next day, and after chilling at the restaurant for a good little bit, I decided to go for it. I booked my travel adventure for 8 am the next day and grabbed some vital bug spray from the Radisson curio shop.
When I returned to my cottage, I met three amazing women, Susan, Jessica and Rachel, who were in 3 other cottages, and there for a business trip. There were only 5 cottages total, and the 5th wasn't occupied for my stay, so it felt like our own little village—with a small pool in the middle. We hung out and chatted and had a fantastic time, then dinner later.
One interesting thing I didn't know… Belizean days start really early (it starts to get light at 0530) and end just as early. It's dark by 7 p.m. Since I tend to wake up as soon as it gets light and get sleepy when it's dark, I was in bed pretty early most nights.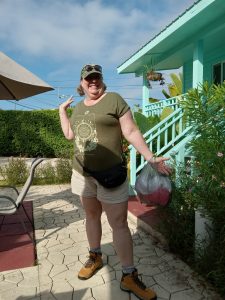 The next day (after buying sunscreen at the Radisson curio shop), I embarked on my adventure with Dean. The girls snapped the pic above as I left to meet him.  It was just Dean and I (I paid a bit extra by going solo, but SO worth it), so we got to know each other quite a bit as we traveled. We drove about 2 hours southwest to the Xunantunich (Su Nan Tu Niche) Mayan Ruins, which were super cool. The main temple of El Castillio is very tall, and mildly dangerous to climb (if you go to the website, you can see a tourist on the 2d level plateau).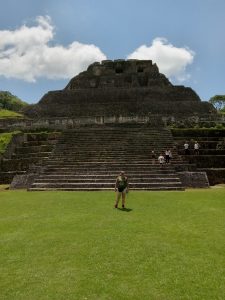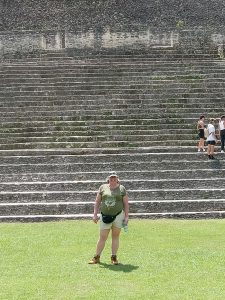 As you can see, the initial steps are SUPER tall. Close to 2.5 feet, so not an easy step. They were made for supplication (the Mayans were on the short side), so being tall was a challenge. But I hauled my chubby (and old) ass up them, and then up to the plateau on the left, which led to another set of stairs that were holy-cow dangerous. Like, you'd never, ever see these in the States. No railings on the "holy shit, gonna fall and die" side, with some here and there to hold onto on your left. But once I got up there the view was amazing.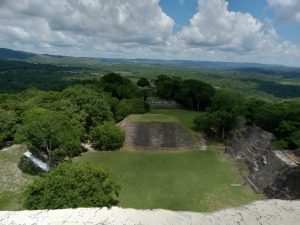 This is looking out into Belize, but behind me was Guatemala, less than a mile away. My guide Francisco and I took a breather (and I drank a ton of water), then headed back down. The trip down was better, but you can bet your ass I took it slow. Klutzy is my middle name, especially when I'm tired. I was exhausted and sweaty as hell. Also super stinky, tho I didn't realize that until later. The temp was only in the 80s, but with 90% humidity, it felt over 100. But I made it and didn't stroke out—LOL.
We grabbed a traditional Belizean lunch of rice, chicken and plantains a bit down the road in San Ignacio (which was a lovely little town) and then headed for cave tubing.
I changed of my hiking boots and stinky clothes and into biking shorts and a dry-wick workout shirt and then Victor (my guide and I) headed for the river. After fording it 3 times (which felt ridiculously good after sweating so much), we reached our destination.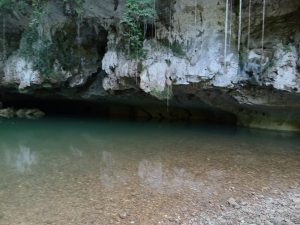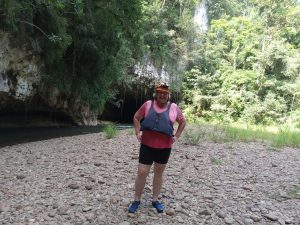 I was all geared up, to include having my phone in a waterproof bag. I was so paranoid about taking it out, I didn't get any inside pics, but trust me when I say it was stunning. If I could do it again, I'd take a GoPro, but I did find a video that really captured the experience. I was incredibly lucky in that Victor and I were completely alone as we experienced this… there were NO other people on the river or in the caves, and it was, dare I say it, a spiritual experience.
After such a wonderful ride, it was truly icky to put my gross clothes back on. But our ride back into Belize City was reasonably short, and soon I was back in my cottage and enjoying a long shower. And a LOT of air conditioning. I enjoyed dinner right down the road (a truly exceptional grilled red snapper with veggies) and then crashed hard.
My second day was all about pampering, and man, did I need it. My quads were dying!! I scheduled a full body massage and a Reiki session. The massage (by the incomparable Shana) was amazing, and I felt loose as a goose. Then came Michelle and the Reiki session. I don't know what I expected, but after an hour of deep breathing and concentrating on a mantra that I had to think pretty hard about before I decided on it, I was completely wrung out. As much as the caves had been spiritual the day before, this was epic on an entirely different scale. I was deeply comforting and uncomfortable at the same time, if that makes sense. It made me confront my grief in a way I hadn't so far while at the same time soothing that grief. I was wiped out, but had such a deep well of goodness. I'll definitely do it again, and I plan to continue using the deep breathing exercises Michelle taught me. If nothing else, it taught me the beauty of stillness, which is a very difficult thing for me to achieve.
The girls and I grabbed dinner right around the corner that night, at a great little shack where I got tostadas…the tortilla was from locally-ground corn with a more Guatemalan flare than Mexican. They were delicious.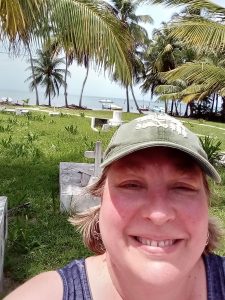 The next day, it was off to Caye (pronounced Key—don't ask me why) Caulker. It was a 45-minute water taxi ride there. Really it's the city bus on the water, tho 😊 Caye Caulker is super chill. There are no cars on the island, only golf carts and there are plenty of golf-cart taxis waiting to take you wherever you want to go. I walked the entirety of the Caye, just to get my bearings. Got offered "the best green" once, which I politely declined (dammit) and settled for a beer at one end of the island   before hailing a taxi and heading to the Pelican Sunset Bar for the best ceviche I've ever had.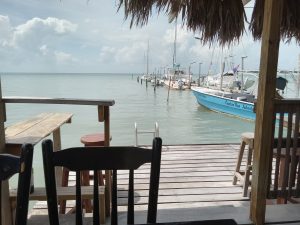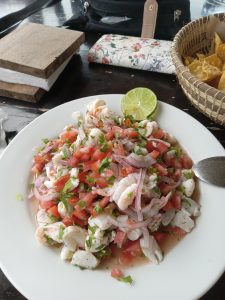 Then I asked for a shot of rum, and toasted August before dumping it in the ocean.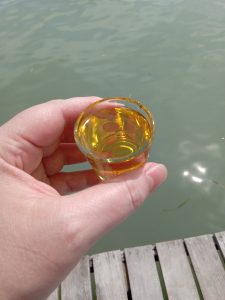 To say I was hot and stinky (again) is an understatement, so I was happy to board the water taxi again and head back to my cottage for my last night. The girls and I went to dinner at a fantastic place right on the water, and truly made a night of it.
Dean rejoined me to take me back to the airport on Thursday, and while I was sad to leave, I was also ready to be home to snuggle with my kitties.
When I landed in Atlanta, I ended up behind a pilot at Customs. We chatted as we waited, and it turns out he was a Vance AFB pilot training grad!! It was before we got to Vance, but still super cool. Then it turned out he was my pilot back from Belize. What a way to end it!
All in all, it was a fantastic trip, and I'd recommend everyone try it.
Pros:
English is the primary language and the Belizean dollar is the currency, but you can use US dollars everywhere. The current exchange rate is two-to-one, so you definitely get more for your US dollar.
Belizeans are the friendliest folks I've ever met. Seriously. They love showing off their country and are extremely proud of it.
The weather is high humidity, but it's fantastic for your skin and body. I felt totally rejuvenated there, even when I was exhausted.
The food, OMG, the food. Fresh fish on the coast, beef and pork dishes in the western parts of the country.
The diverse ecosystem. I only saw the beaches and the rainforest, but there's tons of other places to go here.
Cons:
Not a con, but a caution – Belize reminded me of Mexico and Portugal – there are folks living in abject poverty right next door to a 5-star resort. They're out hustling for a living, which means trying to sell trinkets to tourists. Having said that, a smile and "no thank you" usually suffices. If you want a Sandals type experience, then definitely head to San Pedro on Ambergris Caye, which caters more to American tastes.
Expenses: $2500 total; Hotel=1065; Airfare=$475; Cash=$350 (most of that went to tips); Mayan Temple/Cave Tubing=$300; Massage/Reiki=$250
Audiobooks: Danger in Numbers by Heather Graham for the flights.
Mood music: When I was in my room, played my Happy Music Playlist or jazz.
Things I learned:
If you're female, MAKE SURE you bring 2 bras. I thought I did. I did not. So I had to wash mine every night because I got so gross during the day. Also, bring Febreeze. You'll need it.
For the Mayan Temple, I was told tennis shoes would be fine. NO. Just no. Bring hiking boots, they're totally worth the space. Remember, NO railings. You need solid, sure footing and ankle support. Definitely a hat and sunscreen, + bug spray, tho not as much as you'll need in cave tubing. If you have a fear of heights, I wouldn't tackle the big one, like I did, but there are smaller pyramids that are an easier climb and not so high.
For Cave Tubing, swim shorts/bike shorts and a dry-wick shirt is just fine if you don't want to wear a swim suit. Your boobs are covered up by the life vest 99% of the time. 100% on the bug spray here, so-so on the sunscreen. If you're claustrophobic, you might want to skip this one.
Most of the people you will hire are day jobbers, meaning they get paid for the whole day. I paid $300 for my adventure, but my driver was only paid $25 American. So you bet your boopie I tipped, and tipped well.
Pleasant surprise – the Mayan pieces of lore were exceptionally well done (I kind of knew about 75% of it anyway, and what I knew was on target) and consistent across 3 guides.
Gas is VERY expensive there. Like $8 a gallon. Get a driver. It's cheaper and if you're in a city, you will get lost fast.