This was my second long trip in the Jeep, and I had SUCH a good time. I went for two primary reasons – to see fam and celebrate Nicole's birthday (my sister-in-law) and to look for a place to land next year when I retire.
Because I'm retiring next year, and can't sell my vacation back, I need to take it all, so I'll be doing a bunch of short trips and a few longer ones, with this one being the first.
I took my time on most of this trip, and consequently was gone 12 days. Since I didn't stay with anyone, my lodging expenses were quite a bit higher than when I went to Charleston, and I was gone a few days longer, so the extra expenses make sense.
I left OK and headed for Amarillo (4.5 hours). Which wasn't so much a destination in itself (since I don't eat much meat anymore, Big Tex was out) but was a good jumping off point. On the way there I scouted out Boiling Springs State Park in OK, which I'll definitely be going back to… so very peaceful. I crashed at an inexpensive chain hotel and hit it early the next morning. Just down the road was my first fun vaca place… Cadillac Ranch.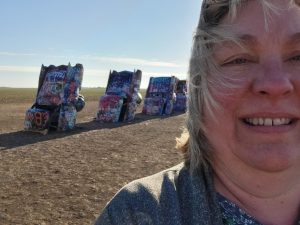 I don't know what I expected, but it wasn't this 😊 I added my layer of graffiti while freezing my ass off, but it was super cool. Then I hit the road. Between Amarillo and Roswell is some reallllly flat land with a ton of feed lots. So not the best scenery in the world. I rolled into Roswell more than ready for some chow and scored a counter seat at the Cowboy Café. Sooooo good!! This is the Hatch Chili burger with a fried egg on top, and was the first beef I've eaten in forever. It was amazing.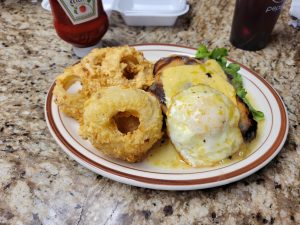 I really wanted to get to my next destination, Cloudcroft, NM (5.5 hours) early in the day, so boogied without spending a ton of time in Roswell, which I was okay with. And I was super glad when I started to hit the mountain roads heading into Cloudcroft. Super gorgeous, but I don't know that I'd want to be traveling them for the first time after dark.  I made it in pretty early and the hotel, The Lodge at Cloudcroft was amazeballs. August would have loved this place so very much. It was built in 1909, the same as our old colonial, and had a ton of the same architecture. What a great birthday present to myself! 
I went up to the very top and snapped this amazing sunset.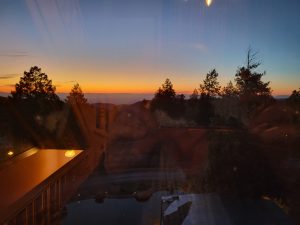 I would stay here again in a heartbeat, and there was a TON of hiking and fun things to do, so I'll definitely be back at some point.
I reluctantly left Cloudcroft and headed for Tucson (5.5 hours). The trip itself was uneventful and felt loooong, probably because of the desert driving. My hotel in Tucson totally made up for it tho!  The Hotel McCoy was in an interesting neighborhood just off the freeway, so at first I wondered if I'd made a mistake. But then when I figured out how to get in (it's kinda squirrelly and right off the freeway) the place was sooooo charming.
It's a super old-school motor lodge. Think smallish rooms with beamed slanted ceilings. But the AC worked great, and this AMAZING mural was my headboard.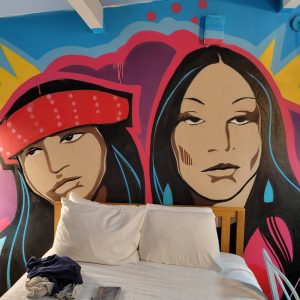 They had a food truck on site, a bar (with a free beer or glass of wine), a fun saltwater pool and an oatmeal bar the next morning (also free).
There was the most adorable little table sitting outside my room (I was right by the entry), and it was a gorgeous night, so I sat there and munched on some of my road food and sipped on a bourbon. I had convos with 4 people regarding my Jeep, and "are you Wander Woman?" And even a few "you're a romance writer?" I ended up handing out bookmarks and from my Amazon #s, know that I made a few sales that night. It was such a fun, friendly, cool vibe. I highly recommend staying there!
Onto day 4, where I hit the road early and headed for Borrego Springs, CA (5.5 hours), which I'm scouting out as a retirement spot. Again, lots of desert driving, but the mountains heading into Yuma were super cool, Yuma itself was actually pretty neat to drive through, and the dunes as you head into Cali definitely broke up the landscape and made it interesting. When I turned north and drove through the Imperial Valley and toward Borrego Springs, I began to have my doubts. It's the surface of the moon out there, with some bushes. And it just keeps going that way. Until you get to Borrego Springs.
The village itself is set up against the mountains and there are lots of trees in town and a ton more greenery than what you see driving up to it. I was thoroughly charmed and decided to stay overnight on my way back to Oklahoma. I did drive through the mobile home park I'm eyeballing, and it was insta-love. The place is fantastic 😊
As I left, I took the "short" route up and over the mountain, and got this shot from one of the vista points. You can see the outskirts of Borrego Springs to the left.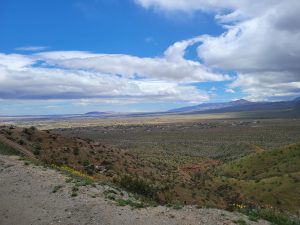 And then I headed the 2 hours into San Diego. It started pouring buckets the moment I hit the top of the mountains, and didn't let up for over an hour. But I'm in a Jeep and I think that just makes me more comfy driving in inclement weather.
San Diego was super fun, and well-spent family time. Our shared birthday party was a hoot, and I got to spend some time with the kids as well. Leslie, Lauren (my other sisters-in-law) and I headed over the mountain again to Borrego Springs, and had a ton of fun scouting out my soon-to-be retirement area, including taking a tour of the public art.
I waved goodbye to Borrego Springs and headed 6 hours up the road to Cottonwood, AZ, which is nestled between Jerome and Sedona, and a perfect spot to spend a few nights and play. I noshed on some fantastic food at Crema in Cottonwood before taking the short drive up the mountain to Jerome.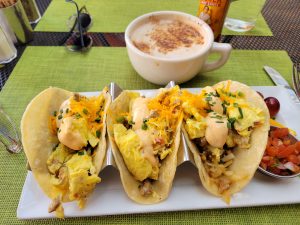 I actually found parking in Jerome (which is a minor miracle) because it was so early and checked out the State Park (they got a smidge of snow that night and it was very cold) and had a most excellent tasting experience at Caduceus Winery, which just happens to be owned by the frontman for Tool, one of my fave bands. Kim Miceli was my tasting pro, and she was just lovely to hang and talk with. I bought WAY too much wine, but that's the joy of driving and not worrying about weight, right?  Then I headed into Sedona for lunch. Because why not?
This was the ridiculous view from the parking lot. What????  Honestly, there are so many amazing views in Sedona and Jerome, but this one was a "take a deep breath" moment after braving the gazillion people jaywalking and just being dumb on the road.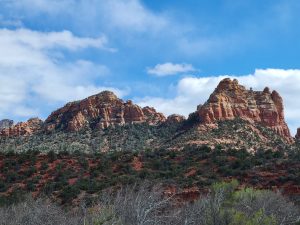 Had a lovely lunch and picked up a bunch of goodies for everyone back home before heading over to Montezuma's Castle, which was a fantastic whim that hit me when I saw the sign. It was a gorgeous day and a lovely walk around the loop, just enjoying nature.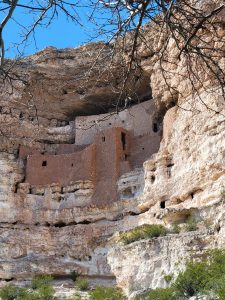 The next day I was up early and heading for Meteor Crater.
So there's a story behind this one… August and I drove past Meteor Crater approximately 800 times (just kidding, but it was a lot) on our trips to San Diego and Mariposa over the last 25 years, and every single time he'd say "We'll go there next time, I promise." So this time, I took him along for the ride 😊
I'm not going to say it wasn't traumatic. It totally was. I cried in the parking lot afterwards for at least half an hour, mostly over opportunities lost. On a lighter note, his ashes are freakin' heavy as hell, and there are a LOT of stairs (I refused to take the elevator).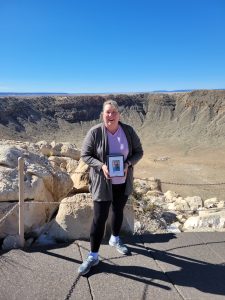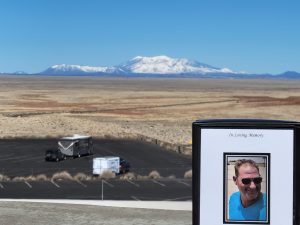 After my cry, I got on the road for a looooong day all the way into Tucumcari, NM (10-ish hours). I think this one seemed longer because Interstate 40 is really desolate along this stretch. Gorgeous, but desolate. And I got stuck in a traffic jam that was over 10 miles long due to a tractor-trailer fire. Which is legit, but still a PITA. It looked like the driver made it out, but there were Cuties scattered along the freeway for miles.
I grabbed a hotel in Tucumcari and got up early and began my 6-hour speed run for Oklahoma.
It was glorious to be back home with the kitties. I'd taken a few extra days of leave, so had some time to decompress before heading back to work.
All in all, it was a fantastic trip, and I loved about 99% of it. Yeah, Meteor Crater was tough, but it was a piece of closure I didn't realize I needed to move forward.
Expenses Total: $2660; Gas: $554.86, Food: $501.74, Lodging: $1604.03
Audiobooks: Midnight Crossing by Charlaine Harris; Bad Luck and Trouble by Lee Child; Thank You for Listening by Julia Whelan and several others I started but chose not to finish.
Things I learned: More dry foods. WalMart has some turkey sticks that were fantastic and I made up a trail mix that I definitely could have eaten more of.
Notes for next time: Less refrigerated/cooler stuff: I ate almost everything, but at the end it was kinda sketchy. I could easily have packed ½ of what I did and hit a grocery store to restock.