Terri's Jeep'n Adventures–Oklahoma to Charleston
This is my first travel blog post about my maiden Jeep journey. A bit of backstory first, tho.
It's been almost a year and a half since my husband passed away, and in that time I've done alllll the things to keep myself busy, to try to start to build a life without him.
We'd always talked about traveling when he retired, and I decided that I'd continue with that plan. But I wasn't sure how I was going to go about it, whether I'd Jeep it to hotels (and maybe sleep in the back of the Jeep when the weather was nice) or get a pull-behind. For context, I have a 2015 4-door Wrangler that can easily tow a small pull-behind, and I also have a blow-up bed for the back that I've slept in before.
Visiting our oldest friends in Charleston seemed like a good test of the drive/hotel option because it's still damned hot in late August/early September. My main concern was to see if I could drive that far and not lose my mind, to either overthinking, or just being on the road that long by myself.
Let me start out with this… the drive/hotel option was an unqualified success.
I left northwestern Oklahoma at noon on a Friday after a half-day at work and made it down to Little Rock in about six hours. I stayed on the river and ate at Dizzy's Gypsy Bistro, which was fantastic. If you ever go there, the White Truffle Mac and Cheese cannot be beat. I'd thought I'd commemorate my trip by taking selfies when it seemed right, and while I was sitting there, I shamed myself a little bit. I wondered what people would think about this sorta-overweight, mid-fiftysomething woman taking a selfie in a restaurant. So I didn't. And the next morning, I kicked myself. Because who is actually going to care about me taking a selfie? Am I ever going to see these people again? And do I care what they think?
The answer to that was a resounding "no," so I vowed to get over myself as the trip commenced.
The next morning, I left Little Rock behind, knowing I'll be revisiting it in the future. It has a great vibe that I can't wait to explore, and since it's so close, I can see doing it on a long weekend before I retire.
Side note: I discovered I have a 120-150 minute bladder 😊, so caveat that with the time I'm spending on the road.
I put in a solid eight+ hours the second day and arrived in Atlanta. Now, I've been to Atlanta before for a conference and loved the downtown area. Where I booked my hotel this time around? Not so much. The area was a complete goat rope on a Saturday night. I'm not talking about it being busy. I'm talking people parking on the sidewalks, ignoring lights and just a general feeling of impending mayhem. The hotel wasn't much better. It was just weird, almost looking like it'd once been an efficiency apartment or a shared dorm room. I was hoping the "soul food" restaurant next door would salvage the experience, but it was a wannabe Chilis with bad service. But the drinks were good when they finally arrived.
So needless to say, I was pretty happy to put Atlanta in my rearview mirror as I headed to Charleston. The drive there was short and sweet, just under five hours, and most of it was lovely.
Our friends George and Jodi and their kids treated me like royalty, showing me super fun stuff in Charleston to include treating me to a culinary tour that we ended up getting soaked doing, but it was a blast. This pic is from the CU restaurant (Church + Union), a former Naval chapel. Food was fantastic at all of our stops, but here especially.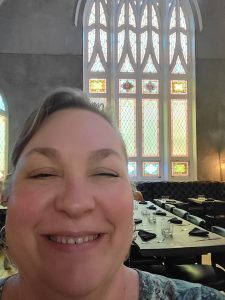 The next day we toured a winery (this is Jodi) and a tea plantation (this is me, George and Jodi) before indulging in a fantastic selection of bourbons at Paddock Bourbon & Whisky Bar.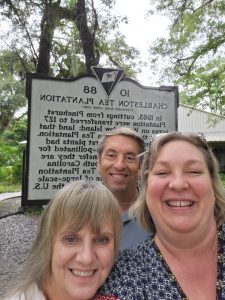 I loved having a chance to reconnect with one of my Airmen (waving at Taylor, if he sees this) who's stationed in Charleston and then we had an AMAZEBALLS family dinner at Halls Chophouse. This was truly a bucket list dinner, and I'm so grateful for the chance to go with some of our bestest friends. I threw a toast to August in the sky, because Halls was exactly the kind of foodie/drinkie experience we loved to have together.
I hated leaving Charleston but wanted to get back home with a few days to re-center myself before I head back to work. Return day one was just under 8 hours, and I rolled into Tupelo, Mississippi around 4 pm. And you KNOW I had to get a pic with the statue of Elvis!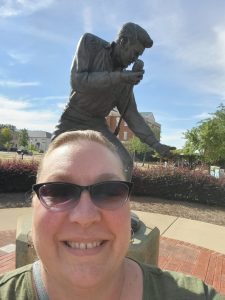 Stayed at the Hotel Tupelo, which just a smidge more pricey than the other hotels, and was worth every penny. The room was fantastic, and the food downstairs at Jobos was ridiculously good. For dinner I had squid with bacon lardons and bacon dashi and then a blackened shrimp Caesar salad. It as amazing.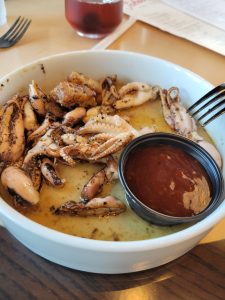 Then before I hit the road, I had a fantastic, healthy breakfast bowl that seriously set me up for the rest of the driving day.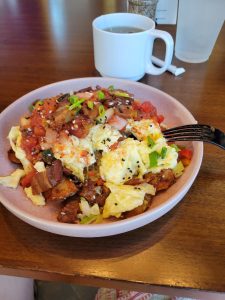 I rolled out pretty early after a great breakfast and was 2 hours down the road when the hotel called me to tell me I'd left my tablet in the room. I was so very pleasantly surprised they'd called (I mean, the housekeeper could have kept it and feigned innocence) and we worked out a plan to get it back to me. So A+++ to Hotel Tupelo.
I'm a pretty fearless traveler, but not stupid. So when a random guy approached me at a gas station in Arkansas, asking me for a jump because he'd left his lights on, I told him no. He pressed. I told him no again and looked at the dude at the pump next to me, who was watching what was going on very intently. Rando moved on to approach another woman who told him no, then another who said yes. And granted, his car was in plain sight, it was just so weird that he went to ONLY women and not the other dudes at the station. I made sure to stick around until the woman who'd agreed to help him was well on her way before I saddled up myself. It might have been totally innocent, but gave me a creepy vibe, y'know?
Then I entered the monsoon. Seriously. It rained so hard on 3 separate occasions in Arkansas and Oklahoma that I was doing 30 on the freeway, flashers on, the whole nine yards. And I was in WAY better shape than a lot of folks because I'm so high up in the Jeep and the roads were totally flooded. It was reasonably dicey for a good bit. I was just happy to see blue sky as I pulled into Tulsa for my last night on the road. I could have probably jammed on to home, but I promised the cat-sitter that I wouldn't be back until Saturday morning, and it gave me a chance to go to Sprouts the next morning to stock up. Had a lovely dinner at Charleston's, which is next-level road food where I can go Paleo or not with ease.
My drive from Tulsa almost seemed longer than half the trip, probably because I've done it a million times and because I was coming home 😊
It was a great trip, and I'll definitely be doing more long trips in the future, but for the rest of this year, I think I'll be sticking a bit closer to home.
More adventures to come, they'll simply be of the Oklahoma/Kansas/Arkansas variety.
Expenses: Gas =$495; Hotels=$600; Food=$400. The food cost is only for the road, and most of that was me splurging on a nice dinner at each of my stops. (I tried to treat my hosts as much as possible once I was in Charleston, but we fought over bills 😊) I only ate breakfast or lunch, and nibbled from the small cooler I brought, then bought fast food to bridge the gap. I wouldn't do the fast-food thing again. All told, this was about an even-steven cost if I'd flown and rented a car and I definitely would have spent more on food if I was at my final destination.
Audiobooks: Death Echo & Blue Smoke and Murder by Elizabeth Lowell. I started 4 others but ditched them when the narrator didn't do it for me.
Mood music: My feel-good playlist has lots of fun stuff on it, but for this trip, it was ALL Lizzo (especially About Damn Time), after I kicked my own ass in Little Rock for not being brave.
Things I learned:
• I can drive 10 hours if need be, as long as I get out to stretch when I pee and gas up.
• The map on my laptop overestimated travel time. Maybe they're factoring in traffic. I dunno, but this wasn't as long as I anticipated it being, so I got to my destinations way earlier than I thought I would.
Notes for next time:
• Research standing road-yoga for when I stop at gas stations or rest stops
• Better road food. I just kind of winged it this time, and I need to be better prepared next time with less carby/fast food stuff. I bought a mini-fridge that plugs into the 12V outlet for my next trip. I threw away a bit of food because my cheesy $12 cooler from Wal-Mart didn't cut the mustard. This way I can definitely pack some perishables for the driving portions that are actually healthy and tasty.
• Have a full set of silverware and paper napkins packed, just in case.