I took the whole week after Memorial Day off (to start using my vaca time before I retire next year) and one of my "resolutions" this year was to go to a bunch of state parks here in OK. We had the Friday before Memorial Day off, so I took advantage of the fact everyone else was likely working and decided to hit up Red Rock.
A bit of a disclaimer – in my resolutions, I was going to Jeep camp. And then I realized how freakin' close most of these are. Seriously. Red Rock is just under two hours away. So instead of doing allllll the things for camping, I've decided to day trip the ones I can (and that way I don't need a cat sitter, either).
This trip was the debut of my new retractable roof on the Jeep, and OMG, it was sooo much easier than taking off the panels. I'm officially in love 😊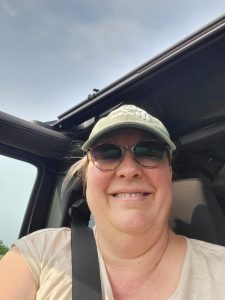 Google Maps took me this totally weird route (found out why on the way back), but I still got to Hinton OK less than two hours after I started. Hinton is tiny and the park is right outside of town. If you didn't know this totally cool little place as there, you'd drive right past it. And you probably will…I did, because the turn is only kinda sorta marked and I didn't expect the ranger station to be less than a hundred yards from the highway.
I turned around and made my way to the entry and had a lovely chat with the ranger, who gave me a map and told me where the best hikes for chubby over-fiftysomethings were—LOL. He also advised me to strap on my hiking boots, that most of the trails were still a bit wet from recent rains and the current humidity.
I still didn't see what the "park" was, and wondered if I'd wasted $10, since everything looked like normal central Oklahoma, but then I started down into the canyon and O.M.G. it was amazing.
Think a teensy version of Sedona. Literally driving along gorgeous red cliffs with a beautiful stream running nearby. But even better than Sedona—minimal people!!! Granted, I was there before all the Memorial Day folks started arriving, but there just aren't a ton of campsites there.
I can't overemphasize how much of a surprise and a treat this was. The canyon itself isn't very long, maybe three miles? And that's a stretch, but it's so very pretty and peaceful. About halfway through there's an actual pool and small store where you can grab incidentals if you don't want to drive the whole 3 miles into Hinton 😊.
I drove to the very end of the canyon and then picked two trails to hike on… the California Road Nature Trail and the Canyon Rim Trail.
The Nature Trail was… interesting. It's shorter than the other one, but gains altitude to the rim pretty quickly. The trail itself was nice and there were a ton of flowers I took pics of. I also realized that without my glasses on, I have zero idea of what expression I'm making, so I will have glasses on for all pics now–LOL Look at all of that greenery!!!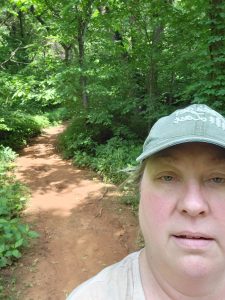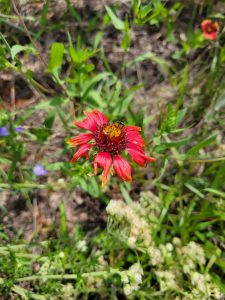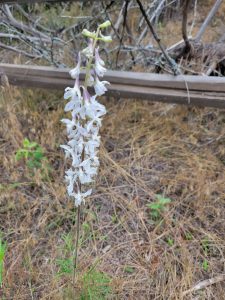 Then I started back down, and it was slick as snot. The ranger had been totally right, and the slabs of red rock were super slick as you traversed back down from the ridge. I didn't fall, but I took it VERY slowly. All in all I think that one was around 1.5 miles, so not super long, but lots of vertical footage.
I did discover that's one of the advantages to hiking solo…I didn't have to go fast for anyone and didn't have to slow down either. It was super peaceful, and the birds were singing and it was just very zen.
I made it back down to the Jeep without breaking my ass, and guzzled some water and trail mix, then headed out for the opposite trailhead, which goes on the other side of the ridgeline.
This trail was MUCH better. Wider, better marked, and branches off into several different trails. I chose to just hug the top of the canyon and got even more pics of flowers, including a cactus and a super colorful butterfly. Obviously flowers were very important to me on this trip–LOL!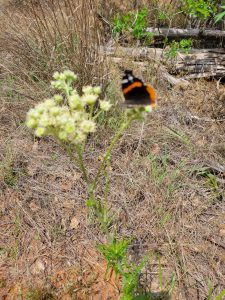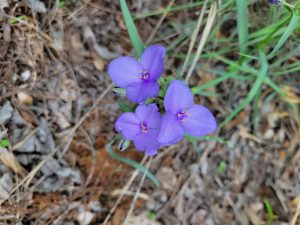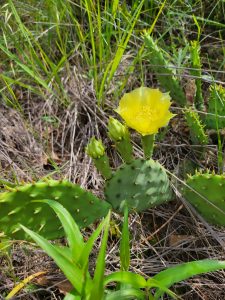 .
I could have gone even further but decided to call it a day. At that point, I'd been out almost two and a half hours and I was HUNGRY—LOL. So I headed back and drank a ton of water then headed to the little store to see what they had to offer.
Since they just opened this weekend, it was limited to sno cones and hot dogs and such, so I treated myself to a sno cone and chatted with the manager.
Turns out she and her family bought Red Rock when the state decided to decommission it as a State Park. I had NO idea it was privately held. But that means they have a different rule set than the state parks, including the fact I can sleep in the Jeep without getting hassled, so I'm definitely going to head back and overnight it, then hit the trails I didn't hike this time around.
She also recommended Jaques Barbeque in Hinton for a late lunch, but that I had to boogie because they'd sell out by 1400.
It was sooooo good! I don't usually eat red meat much (last time was on my trip in March when I rolled into Roswell) but I got the brisket and pulled pork sandwich with the white garlic sauce, and oh honey, it was amaaaaazing. I also got half a cob of grilled corn. YUM!!! You totally have to check his food out if you're ever in that area.
I hunkered down in the Lions Club Memorial Park (seemed fitting on Memorial Day weekend) and polished that bad boy off, right as storms were starting to form. So I popped the convertible top back into place (in about 30 seconds…so glorious) and headed home.
I took I40 back, and I saw why Google Maps had rerouted me… the interstate is a freakin' goat rope right now. I was fine going east, but they were backed up for miles and miles and miles and down to one lane going west. Glad I followed directions rather than veering off on my own.
All in all it was a fantastic way to spend the day, and I highly recommend this as a day trip if you're in the area, or a camping trip if that's your jam.
Expenses: $57 total; gas=$25 (because the Jeep is a box on wheels with absolutely zero aerodynamic properties); $10 park entry fee for day use; $5 sno cone; $17 lunch.
Music: 80's alternative on the way there with the top down, my Happy Music playlist on the way back (just didn't feel like an audiobook)