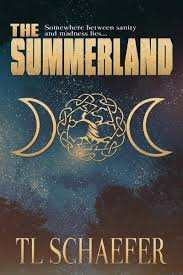 Summerland
Sheriff Bill Ashton's life is good, quiet, until the bodies of five women are discovered in the remote foothills and all hell breaks loose. Then another woman disappears, leaving her estranged sister's stolen car and half a million in cash behind as their only clues.
Air Force Captain Arden Jones hasn't spoken to her sister in years, but Samantha's disappearance galvanizes her, sending her to small-town America in search of the black sheep of the family.
Thrown together by circumstance, Bill and Arden explore Samantha's disappearance and her probable connection to the murdered women. Neither expects, nor welcomes, the attraction that surges between them, or the fact that setting aside long-held beliefs may be the only way to stop a madman bent on creating the perfect woman, the one true goddess central to the Wiccan religion, Diana.