Sooo geeked that Lunatic Fringe, the third book in the CASI series, will be published on 25 August 2020. You can pre-order it now, if your heart desires 🙂 It's only 99c through the end of August.
Kick-ass heroine losing her identity 1 day at a time
Cold as ice hero who'll scorch the Earth for her
Frenemies to lovers
Saving the world (again)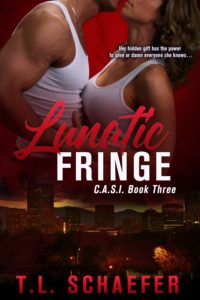 This series has been a long time in the making, and I'm so happy to finish it up with Monica and Heath's story, as well as closing the loop on the big bad that has been haunting the CASI crew for the last 3 books (and 1 novella).
And hey, if you're new to the series, Behind Blue Eyes is FREE for the month of August, and Shoot to Thrill is just 99c. So what are you waiting for?