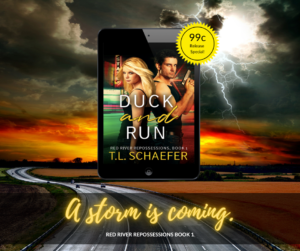 So very excited to share a bit more of Duck and Run with you, to include a .99c pre-order! For anyone who purchased it even earlier, no fear, you'll get the 99c price. D&R releases on 26 February, so just a few weeks away!!
Cris and Nick are two characters who were a long time coming… around a decade. When I first wrote this story, I had Harlequin Intrigue in mind, so wrote the first half, and then a big tornado hit Oklahoma City and a book that opens with a tornado seemed super tone deaf. So I put it away for a few years. And then started writing again and fell in love with Cris and Nick again… And then another massive tornado hit in our region and I figured, that's it, done with this one.
But something happened to me last year. Maybe it was because of the pandemic, maybe it's my day-job retirement looming on the horizon, but I decided to get off my butt and finish things. So I finished the CASI series and I finished the Mariposa series.  And then I finished this book and dove into the next one (Broken Wings, coming in August).
I still adore Cris and Nick and the whole Red River Repossessions crew, and I hope you will as well!

Repossession agent Cristine O'Connor escaped the horrible memories of her past in Austin and buried herself deep in a new, safe, quiet life.
Oklahoma State Bureau of Investigation Special Agent Nick McClain sucks at undercover work, but that doesn't stop the powers that be from sending him into the field, and into danger.
When Cris repossesses a car and discovers Nick locked in the trunk, it's just a matter of time until their secrets—and their pasts—collide. They'll need to risk everything, including their hearts, to survive.