TABT: The Darkest Night, by Gena Showalter
All her life, Ashlyn Darrow has been tormented by voices from the past.  To end the nightmare, she has come to Budapest seeking help from men rumored to have supernatural abilities, not knowing she'll be swept into the arms of Maddox, their most dangerous member—a man trapped in a hell of his own.  Neither can resist the instant hunger than calms their torments…and ignites an irresistible passion.  But every heated touch and burning kiss will edge them closer to destruction—and a soul-shattering test of love…  Though they carry an eternal curse, the Lords of the Underworld are irresistibly seductive—and unimaginably powerful . . .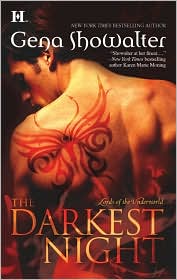 Um, wow.  Just wow.  I was lucky enough to get an ARC of this book (thanks, Gena!!) and zowie, I'm glad I got the sneak peek.  Darkest Night is comparable to Showalter's Berkley books…it's dark, moody and over-the-top sensual.  The worldbuilding and set-up for future books is simply awesome.  Not to say that it takes away from the main story of this book…not at all.  The secondary characters are absolutely necessary to the plot, and all darkly sensual in their own right.  Ashlyn and Maddox are supremely hot together…and I've gotta say, the cover shot of Maddox's back…oh la la.  I kept picturing it every time I go to one of his scenes, or in Ashlyn's head when she was thinking of him.  I can't recommend this one enough folks…I'll bet you'll be just like me…preordering the rest of the series as soon as you finish this one!
2 Responses to TABT: The Darkest Night, by Gena Showalter